June 8, 2018
Day 5 - Perpignan to Port-la-Nouvelle
The storm had passed and the skies were clear. Time to get back out on the bike!
When we got the bike out of the closet and out onto the street, I noticed that the back tire was flat. Hmm. Well, it was a quick fix - replaced the tube and we were off. But that's the first flat we've ever had while touring on our Schwalbe Marathons...more on this later.
Our route was aimed at the Mediterranean. We followed a lovely bike path along the river, then went cross-country (on roads) to the next river north. This river featured an even more lovely bike path that took us all the way to the sea.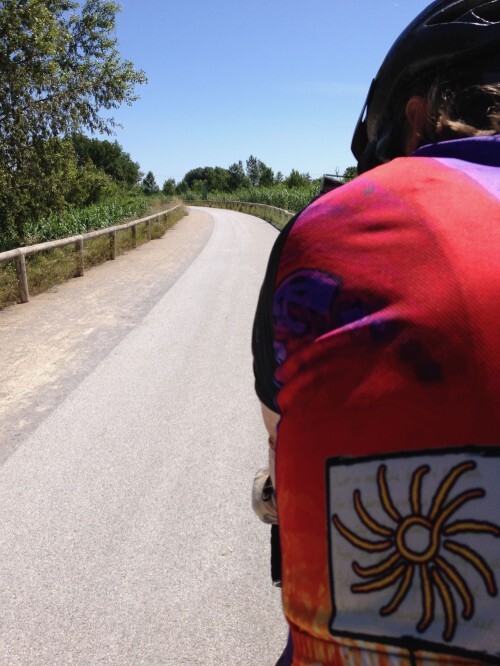 Great bike path out to the coast from downtown
Almost to the Med!
We turned north and enjoyed the sun and a tailwind. The kilometers flew by. We found a restaurant called "Les Pilotis" and had a magnificent lunch on the beach.
Lunch at Les Pilotis in Leucate
Beach view from the restaurant
We waddled back to the bike and finished off the day's ride at our hotel "Hôtel restaurant Méditerranée Logis de France" in Port-la-Nouvelle. The hotel is a little dated and cramped but they happily found a place to store the tandem. We cleaned up and went out for a walk on the beach.
Evening walk in Port-la-Nouvelles
Then dinner and a good night's sleep.
Today's ride: 57 km (35 miles)
Total: 179 km (111 miles)
| | | |
| --- | --- | --- |
| Rate this entry's writing | Heart | 4 |
| Comment on this entry | Comment | 0 |