July 3, 1996
Poplar, MT to Williston, ND
We'll take the northern route across the US; it will be cooler.
See yesterday, except worse (because in addition to 100 degree temperatures and head/crosswinds all day, we had many hills and bad roads). It took every ounce of determination for me to keep going. I kept telling myself, "I can do this; it doesn't have to be fun." Of course, what alternative is there? Sit down on the side of the road in the Montana/North Dakota desert in the blazing sun and refuse to go on?
Montana buttes
I did today on 3 hours sleep; must have been the caffeine from yesterday's 6 p.m. Coca Cola. We lost an hour upon entering North Dakota, moving into the Central Time Zone. My knees are really hurting, just general pain, and I have some very sunburned sections of leg and back. Coming down one hill, I saw an enormous bison standing alone on a far hillside; there were no others in sight anywhere. Took a picture for Kelly of course.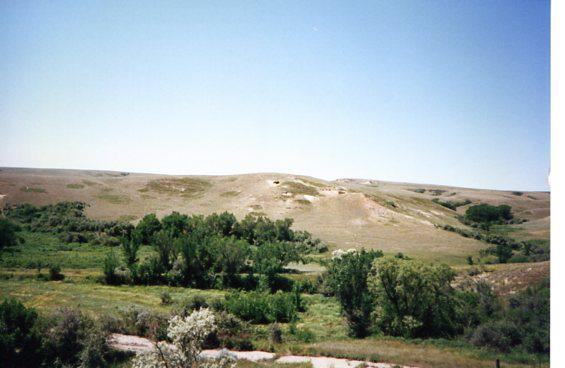 If you squint you can see a lone buffalo on the far hillside in the bare patch; North Dakota finally!
Had a wonderful fresh fruit plate- luscious strawberries, delicious
Today's ride: 79 miles (127 km)
Total: 1,289 miles (2,074 km)
| | | |
| --- | --- | --- |
| Rate this entry's writing | Heart | 1 |
| Comment on this entry | Comment | 0 |