July 7, 1996
Carrington, ND to Page, ND
James and the Giant Peach
I finally got hold of daughter Kelly; it was great to talk to her.
WE MET TWO WESTWARD BOUND CYCLISTS, TEACHERS FROM COLORADO AND HAD A REFRESHING CONVERSATION. THEY ARE ON THEIR SECOND TRANS-AMERICA TOUR. THEY DIDN'T WANT TO HEAR HOW WE RODE 132 MILES WITH A TAILWIND YESTERDAY. THEY USE EARPLUGS TO SHUT OUT THE WIND NOISE. WE HATED LEAVING THEM.
Ophem cabin - first permanent residence in Cooperstown, Griggs County, circa 1887
AT LUNCH WE MET TWO OTHER CYCLE TOURISTS, ONE OF THEM GOING WEST. RON RODE WITH US FOR A WHILE. HE IS A FREIGHT TRAIN ENGINEER FROM BISMARK. HE HAD JUST MET HIS FIANCE FOR A SHORT LUNCH AND HAD GREAT DIFFICULTY LEAVING HER. EARLIER IN THE DAY WE WAVED AT A CROP DUSTER FLYING OVERHEAD WHO WAS LOOKING AT OUR BIKE. HE GAVE A SHORT PUFF OF INSECTICIDE IN GREETING.
Main Street, Page, ND
WE PULLED INTO PAGE, NORTH DAKOTA EXPECTING THERE TO BE A HOTEL OR MOTEL, BUT WERE DISAPPOINTED THAT IT SEEMED TO HAVE CLOSED. WE WERE DIRECTED TO KEVIN P.'S HOME. HE WAS THE OWNER OF A LOCAL GROCERY STORE AND HAD ACCEPTED THE RESPONSIBILITY (AS A TOWN FATHER) OF RUNNING THE HOTEL. THE HOTEL IS OLD FASHIONED WITH ONE TOILET AND INDIVIDUAL ROOMS WITH A COMMON LOUNGE AREA. THE UPSTAIRS IS NOW CLOSED BY THE STATE AND THE ENTIRE COMPLEX WILL PROBABLY CLOSE NEXT YEAR. THE HOTEL COULD BETTER BE DESCRIBED AS A "ROOMING/BOARDING HOUSE" CIRCA 1930, 40'S. THE CAFE CLOSED AT 1:00, SO KEVIN INVITED US TO DINNER AT HIS HOME. WE HAD AN ENJOYABLE TIME UNTIL HE HAD TO LEAVE. HE WAS THE VOLUNTEER JAYCEE PROJECTIONIST (THE PAID PROJECTIONIST COMMITTED SUICIDE) AT THE TOWN'S THEATER. HE GAVE ME A TOUR OF THE PROJECTION EQUIPMENT THEY ARE PRESENTLY USING AND THEN SHOWED ME THE OLD PROJECTION ROOM UPSTAIRS.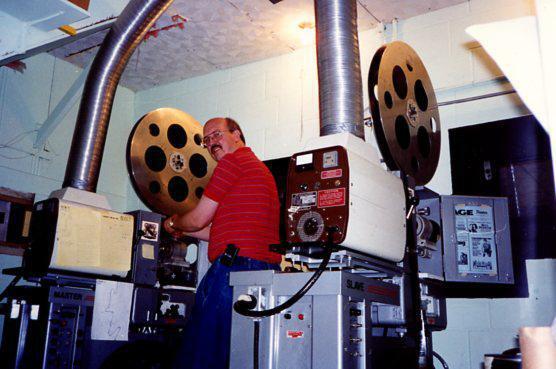 Kevin Pancow, running the weekly movie.
THE OLD CARBON-ARC PROJECTION UNITS WERE STILL THERE. THE ROOM ITSELF WAS STEEL ENCASED IN THE EVENT OF A FIRE. THE OLD FILM HAD NITRATE (NITRITE?) COMPOSITION AND WAS FLAMMABLE/EXPLOSIVE. IN THE EVENT OF A FIRE FROM THE PROJECTION EQUIPMENT, METAL PLATES WOULD AUTOMATICALLY CLAMP SHUT, CONTAINING THE FIRE, BUT PRESUMABLY DOOMING THE POOR PROJECTIONIST. THERE WAS A LOT OF OLD JUNK UPSTAIRS, INCLUDING A CHILD'S COFFIN (EMPTY) AND A WALT DISNEY FILM POSTER FROM 1943. THE SPECIALIZED ARMADILLOS SEEM TO BE EXACTLY WHAT IS NEEDED AND THE NEW FRONT DERAILLEUR WORKS GREAT. I FINALLY TALKED TO MY PARENTS BY PHONE. MY DAD HOPES TO RECORD OUR PHONE CALLS FOR HISTORICAL PURPOSES.
The theater shows a movie each weekend and luckily for me it was Disney's "James and the Giant Peach". It goes without saying that Dave skipped the movie. Page is the quaintest town with a family feeling. About five miles west of Page we passed a small concrete building with an American flag, fence, spotlights; reminded us of a prison but much too small and the fence not high enough. Dave wanted to stop and check it out. Later Kevin told us it was a missile launch command center for the missile silos in the area and if we had approached we'd have been met by men with guns.
Today's ride: 90 miles (145 km)
Total: 1,668 miles (2,684 km)
| | | |
| --- | --- | --- |
| Rate this entry's writing | Heart | 1 |
| Comment on this entry | Comment | 0 |