April 29, 2012
Amtraking to Oceanside: Notes on Amtrak and hiker/biker camping this stretch
Caught the Pacific Surfliner from Goleta, it runs several times a day and stops at a lot of stations on the line - check the Amtrak web site for more details. It does take bikes, but only three bikes per train and in the one carriage located in the middle of the train. If there are already three bikes on the train the conductor has the option of denying entry if he/she feels like it. You have to hang the bike vertically from the hooks. My conductor was pretty laid back about it and didn't mind that I couldn't get Turtle's fat tyres into the hangers - she was horizontal and partly blocking the entry. A couple more cyclists got on in Santa Barbara (not tourers) and had to hang their bikes together on the one remaining hook (4 bikes in 3 spaces). I locked panniers and bike together, as I had to ride upstairs and out of sight from my rig.
There was a crew change in LA and the new set of conductors wanted to kick Turtle off the train. I had another go at hanging her vertically and managed to jam her front wheel into the hook.
Crisis averted.
Got off at Oceanside and cycled the rest of the way to my brother's place in Leucadia.
Note to other cyclists: 2"+ tyres will not fit in the cycle hangers and you'll have to hope you get a kind conductor and an uncrowded train. Also, during peak summer months try getting on the train at Goleta to ensure you get one of the three cycle spaces. From Santa Barbara on there could be competition for the spaces and it's allocated on a first come first serve basis. No one seemed to care that I was technically over the two bags per traveller baggage limit. From memory, the cost from Santa Barbara to Oceanside was about $38.00.
For those camping in the hiker/biker sites from San Clemente south. You'll either need a free standing tent or have to use some creative pegging techniques, as you will often be pitching it on either pavement or hard pack dirt/gravel.
And needless to say, you're driving through urban traffic and need all your defensive driving skills.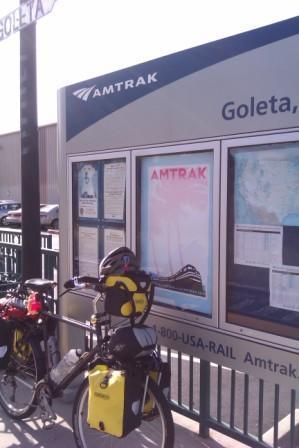 Waiting for the train: I'm sure that must be the title of a Willie Nelson song...We are trying to blend in with the commuters, but I think they can sense we are not one of them.
Today's ride: 9 miles (14 km)
Total: 432 miles (695 km)
| | | |
| --- | --- | --- |
| Rate this entry's writing | Heart | 1 |
| Comment on this entry | Comment | 0 |